The 2023 Subaru Love Promise Community Commitment Award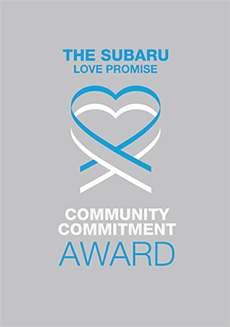 We've been nationally recognized for our dedication to our community and the Subaru Love Promise.
We're honored to receive the 2023 Subaru Love Promise Community Commitment Award. This award nationally recognizes Subaru retailers who are making the world a better place while demonstrating an outstanding commitment to supporting passions and causes in local communities. These efforts are focused in important areas such as the environment, community, health, education, and pets.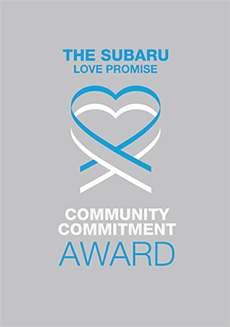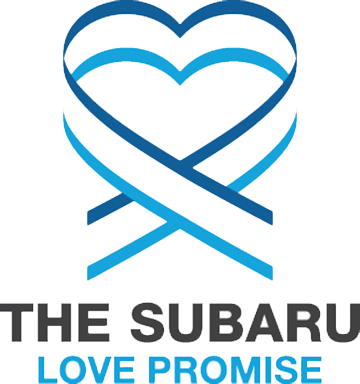 What is the Subaru Love Promise?
Subaru and our retailers believe in making the world a better place and the Subaru Love Promise is our vision of respecting all people. This is our commitment to show love and respect to our customers and to work to make a positive impact in the world.
How is Lithia Subaru of Oregon City dedicated locally to the Love Promise?
Our Love Promise can be seen in various partnerships with local charities, non-profits, schools and law enforcement. We're grateful for the opportunity to support such great causes, and we will continue to do our best to do right by the community in which we all live and work.
Oregon City High School Snowboarding Team, Oregon City High School Football Team, Gladstone High Football Team, Clackamas Community College Volley Ball Team, Tumwata Middle School
Hearts With a Mission - Oregon City, Oregon State Troopers Association, Girl Scouts of America, Oregon City DHS, Oregon City Police Department, Oregon Food Bank
Love Promise Stories from Lithia Subaru of Oregon City
Subaru and Lithia Subaru of Oregon City believe in making a positive impact on the communities in which we live and work. We uphold that belief through our Love Promise Community Commitment. Every month, we select inspiring stories from customers and partners from around our area who strive to support our collective commitment and feature them here
Helping Underdogs for as Long as it Takes - Sarah Y
This past October during the Subaru Loves Pets campaign, 758 cats, dogs, kittens, and puppies were adopted from Oregon Humane Society's Portland campus. Among the pets adopted was a very special "underdog" named Lola, who spent a whole year waiting for the right home. Thanks to the support of Lithia Subaru of Oregon City, OHS was able to provide care for Lola since she arrived at our shelter in October 2021. Found as a stray after surviving Hurricane Ida in New Orleans, Lola came to OHS with some specific needs that made it challenging for her to find a home. She was a senior dog with health issues: a heart murmur, prone to seizures, and allergic dermatitis that caused the fur on her paws to fall out, giving her what we affectionately called "possum feet." In addition to her age and health issues, Lola needed to be the only pet in the home. For 12 months, she was cared for by dedicated OHS foster volunteers, rotating from one home to another as we learned more about her needs. Lola found her perfect home on October 9, exactly 360 days after arriving at OHS. Thanks to the generous support of Lithia Subaru of Oregon City, OHS is able to care for pets like Lola for as long as it takes for them to find a home. We are grateful for Lithia Subaru's partnership all year long, but especially thankful for their commitment to helping shelter pets during the Subaru Loves Pets campaign.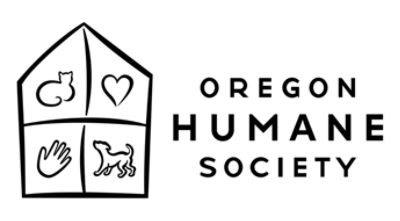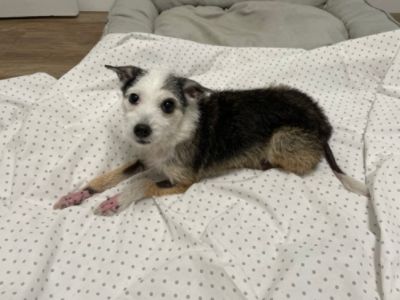 ---
Making a Difference - Gary B
I am 74 years old and am a retired school administrator. I have had a wonderful career in schools and seldom got overly stressed. However, I have had very bad experiences with car dealerships and I always get stressed. We buy a new car every three years . This year every thing changed. I called Oregon City Subaru and was connected with Sarah Duff. Something magical happened. She immediately established trust and guided us through the whole process in a very positive and productive way. We love our new car and I have a whole new feeling about car dealerships.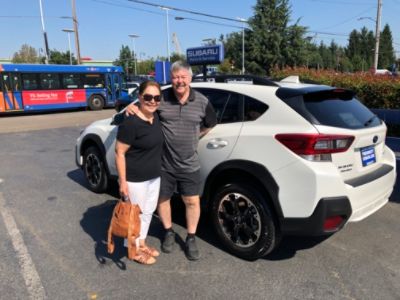 ---
Proud Sponsor of 40th Annual Seaside Volleyball Tournament - Annie M
Lithia Subaru of Oregon City was proud to sponsor five nets at the 40th Annual Seaside Volleyball Tournament. As an active member in the volleyball community, our new car manager Annie was adamant about giving back to the community that loves their Subarus! This tournament is the largest outdoor volleyball tournament in the world, and with it being right in our backyard we were more than happy to help support such a great community.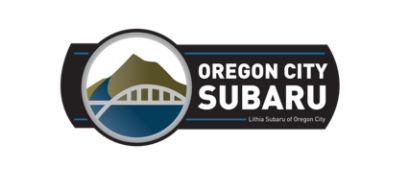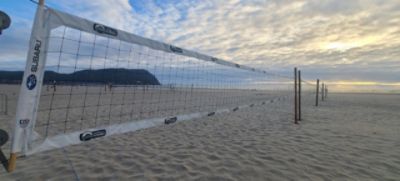 ---
Lithia Subaru Teams Up to Help Pets in Need - Sarah Y
As longtime partners and supporters to Oregon Humane Society, it's no surprise that the staff at Lithia Subaru are genuine in their love for animals. General Sales Manager Cory Fay demonstrated the dealership's commitment to helping pets in need by reaching out to OHS to schedule multiple group volunteer sessions for Lithia Subaru staff to help at the Portland shelter. During their many volunteer sessions, Lithia Subaru staff socialized shelter dogs, cats, and kittens. This socialization, while fun for everyone, provides enrichment for the animals and gets them used to interacting with a variety of people -- ultimately setting them up for success with their new families. Group volunteer sessions enhance the already strong partnership that OHS has with Lithia Subaru of Oregon City. We are so grateful to have Lithia Subaru's support and partnership, it's always a treat working with this team!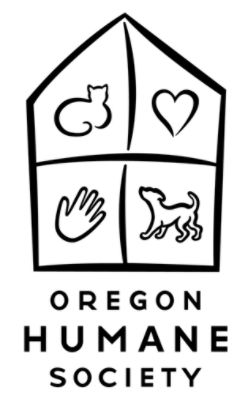 ---
Subaru Share the Love - Steadfast Friend in Ruff Times - Rose W
For years, Subaru has celebrated their love for pets and a commitment to the community with the Share the Love event. Most recently, for every new Subaru purchased Nov. 18, 2021, through Jan. 3, 2022 Subaru donated $250 to the customer's choice of charities. Lithia Subaru of Oregon City chose OHS as their pet cause for the Share the Love promotion for the 7th time in a row, resulting in funds that were able to provide vital care for pets in need, and for the surrounding community. New car buyers stepped up to support shelter pets, and a $27,700 donation was made to OHS as the result. This generous donation is particularly extraordinary when you consider that our community was grappling with a surging pandemic during this period, and production line issues led to significantly lower sales overall. Regardless, our partners at Subaru remained steadfast friends and key players in supporting our service to the community. Making sure our service to those vulnerable never wavered. Lithia Subaru's team goes above an beyond the average sponsor partner. They adopt pets from OHS, attend OHS events, always show up with smiles on their faces, and welcome every dog that walks through the doors with just as much enthusiasm as anyone on two legs. We are truly grateful. (pictured: Ira Jones, Cory Fay, Annie Marjanen, Sarah Yusavitz, and Supreme)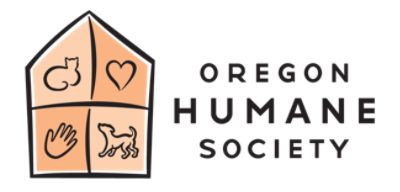 ---
Hair Today, Gone Tomorrow...for a good cause - Jeffrey P
Lithia Subaru Sales Consultant James Dean Hassel recently donated his long hair to Wigs For Kids. Here is his story, in his own words. "I donated my hair to Wigs For Kids because they make wigs for children undergoing cancer treatments and give them the wigs at no cost. I liked that! I started growing out my hair a few years ago after my Aunt passed away due to cancer. I donated it in loving memory of her. This was the first time that I have ever done anything like this but it felt amazing. It was easy to donate. I started the process online. I was matched to the Aura Barber Shop in Portland where not only did I get to donate my hair, I received the best haircut I have ever had done.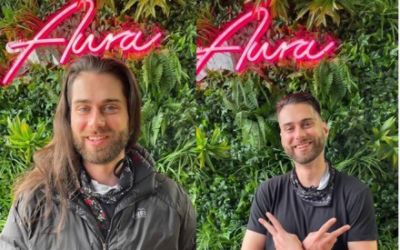 ---
Wish Teen Tyler Meets the Crew - Mallory T
Wish teen Tyler from Oregon City was in and out of the hospital during high school due to his blood condition. One of the things he did to pass the time while sitting in the Emergency room, was to dream about building a custom Subaru WRX or WRX STI. He loved thinking about the mechanical engineering that goes into these cars and the parts. The Make-A-Wish Oregon team knew that Lithia Subaru of Oregon City needed to meet this incredible teen and hear his story and how his wish to go fishing in Florida completely turned around his outlook on life and really gave him the energy needed to graduate from high school. Lithia Subaru of Oregon City staff gave him a behind-the-scenes tour of the service department, gave him a bunch of Subaru rally gear and help him make some pretty awesome connections for the future! This team is AMAZING and we are so grateful!
---
Lithia Subaru Loves Pets - Sarah Y
Oregon Humane Society partnered with Lithia Subaru this past October for the Subaru Loves Pets campaign and Make a Dog's Day event on October 22. During the campaign, Lithia Subaru, under the direction of Sales Manager Cory Fay, displayed materials at their dealership prompting customers to scan a QR code to view shelter pets at the Oregon Humane Society. Since we are still only scheduling adoptions by appointment, this was the most efficient way to share available animals and specifically highlight the "underdogs" who require a special home. Thanks to our partnership with Lithia Subaru and the dealership's dedication to promoting our shelter pets during the month of October, OHS found homes for 190 cats and dogs (not counting puppies or kittens!) Animals adopted during the campaign included Winter, a nine-month-old deaf Australian Shepherd. Winter's condition meant that she needed a patient owner who could train her to learn hand signals and also consistently socialize her with other animals so she could learn to read dog body language. Fortunately, Winter found a home with an experienced pet owner who can provide the specialized care that she needs. In addition to Winter, more than a dozen other "underdogs" found homes during our partnership with Lithia Subaru and the Subaru Loves Pets campaign. We are incredibly grateful for their support and dedication to pets in need!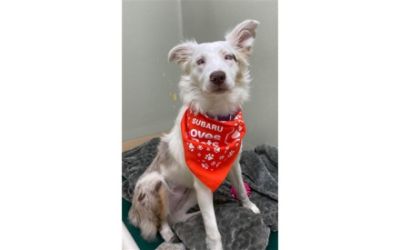 ---
Santa Paws - Sarah Y
You might say it was a Dog Day Afternoon on Saturday and Sunday at Lithia Subaru as we hosted the Oregon Humane Society's annual Santa Paws fundraiser. OHS has long been our community partner and this year was no exception. The public was invited to bring their pets in and have professional portraits taken for a nominal fee which went to OHS. ALL APPOINTMENT SLOTS FOR BOTH DAYS WERE SOLD OUT! While our team was excited to watch the parade of dogs on both day, nothing prepared us for the couple with their out-of-the-ordinary pets as shown here! We certainly know that the pics taken will make for memorable holiday moments for all of those who came in.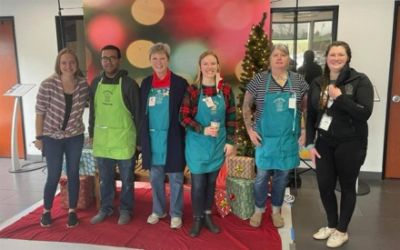 ---
Share the Love - Sarah Y
Lithia Subaru "shares the love" with Oregon Humane Society – donates more than $51,000 to help homeless pets. Oregon Humane Society received more than $51,000 from Lithia Subaru as part of the Share the Love event Lithia Subaru of Oregon City is "sharing the love" with the pets at the Oregon Humane Society with a $51,080 donation. The gift marks the largest donation from Subaru's Share the Love event in the five years since OHS was first selected as one of the local participating charities. During the Share the Love event, which ran Nov. 15, 2018, to Jan. 2, 2019, $250 was donated for every new Subaru vehicle purchased or leased. This was the 11th year for the campaign which is expected to bring $140 million to local and national charities. Since 2013, Lithia Subaru of Oregon City has selected the Oregon Humane Society as the local beneficiary of the Share the Love event. "This year's total was an absolute record - a testament to our staff and customer commitment to OHS," says Ryan Vaughan, General Sales Manager, Lithia Subaru of Oregon City. "We are so grateful to Lithia Subaru of Oregon City for this generous donation," says Sharon Harmon, OHS president, and CEO. "These funds will provide medical care, behavior support, and other services to pets in need. "Pictured left to right: Jason Hirata, District Sales Manager - Subaru of America; Ryan Vaughan, General Sales Manager - Lithia Subaru of Oregon City; Sharon Harmon, OHS President and CEO; Sarah Yusavitz, OHS Corporate Relations Officer; Diego Montoya, Zone Retailer Development Manager - Subaru of America; Peter Holt, District Parts and Service Manager - Subaru of America. ##The Oregon Humane Society is the Northwest's oldest and largest humane society, with one of the highest adoption rates in the nation. OHS receives no government funds for its adoption, education, medical and behavior programs. Visit oregonhumane.org for more information.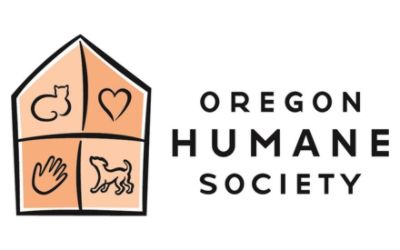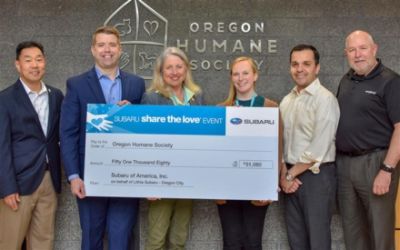 ---