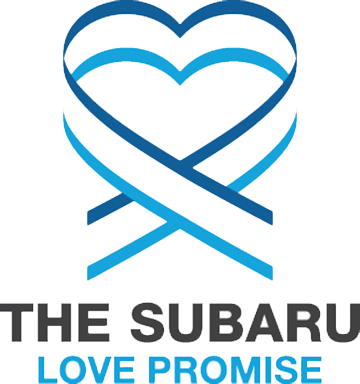 What is the Subaru Love Promise?
Subaru and our retailers believe in making the world a better place and the Subaru Love Promise is our vision of respecting all people. This is our commitment to show love and respect to our customers and to work to make a positive impact in the world.
How is Lithia Subaru of Oregon City dedicated locally to the Love Promise?
Our Love Promise can be seen in various partnerships with local charities, non-profits, schools and law enforcement. We're grateful for the opportunity to support such great causes, and we will continue to do our best to do right by the community in which we all live and work.
Oregon City High School Snowboarding Team, Oregon City High School Football Team, Gladstone High Football Team, Clackamas Community College Volley Ball Team, Mullion Elementary
Hearts With a Mission - Oregon City, Oregon State Troopers Association, Girl Scouts of America, Oregon City DHS, Oregon City Police Department
Love Promise Stories from Lithia Subaru of Oregon City
Subaru and Lithia Subaru of Oregon City believe in making a positive impact on the communities in which we live and work. We uphold that belief through our Love Promise Community Commitment. Every month, we select inspiring stories from customers and partners from around our area who strive to support our collective commitment and feature them here
Wish Teen Tyler Meets the Crew - Mallory T
Wish teen Tyler from Oregon City was in and out of the hospital during high school due to his blood condition. One of the things he did to pass the time while sitting in the Emergency room, was to dream about building a custom Subaru WRX or WRX STI. He loved thinking about the mechanical engineering that goes into these cars and the parts. The Make-A-Wish Oregon team knew that Lithia Subaru of Oregon City needed to meet this incredible teen and hear his story and how his wish to go fishing in Florida completely turned around his outlook on life and really gave him the energy needed to graduate from high school. Lithia Subaru of Oregon City staff gave him a behind-the-scenes tour of the service department, gave him a bunch of Subaru rally gear and help him make some pretty awesome connections for the future! This team is AMAZING and we are so grateful!
---
Lithia Subaru Loves Pets - Sarah Y
Oregon Humane Society partnered with Lithia Subaru this past October for the Subaru Loves Pets campaign and Make a Dog's Day event on October 22. During the campaign, Lithia Subaru, under the direction of Sales Manager Cory Fay, displayed materials at their dealership prompting customers to scan a QR code to view shelter pets at the Oregon Humane Society. Since we are still only scheduling adoptions by appointment, this was the most efficient way to share available animals and specifically highlight the "underdogs" who require a special home. Thanks to our partnership with Lithia Subaru and the dealership's dedication to promoting our shelter pets during the month of October, OHS found homes for 190 cats and dogs (not counting puppies or kittens!) Animals adopted during the campaign included Winter, a nine-month-old deaf Australian Shepherd. Winter's condition meant that she needed a patient owner who could train her to learn hand signals and also consistently socialize her with other animals so she could learn to read dog body language. Fortunately, Winter found a home with an experienced pet owner who can provide the specialized care that she needs. In addition to Winter, more than a dozen other "underdogs" found homes during our partnership with Lithia Subaru and the Subaru Loves Pets campaign. We are incredibly grateful for their support and dedication to pets in need!
---
Santa Paws - Sarah Y
You might say it was a Dog Day Afternoon on Saturday and Sunday at Lithia Subaru as we hosted the Oregon Humane Society's annual Santa Paws fundraiser. OHS has long been our community partner and this year was no exception. The public was invited to bring their pets in and have professional portraits taken for a nominal fee which went to OHS. ALL APPOINTMENT SLOTS FOR BOTH DAYS WERE SOLD OUT! While our team was excited to watch the parade of dogs on both day, nothing prepared us for the couple with their out-of-the-ordinary pets as shown here! We certainly know that the pics taken will make for memorable holiday moments for all of those who came in.
---
Subaru of Oregon City makes the holidays magical! - Fletcher J
From mid-November through early December Lithia Subaru of Oregon City championed the Make-A-Wish Oregon Toy Drive to support their Holiday Magic campaign. Over three weeks, the team collected a Subaru full of toys for children currently in Randall's and Doernbecher's Children's Hospitals that Make-A-Wish Oregon will deliver during special events at each location. Their efforts to promote, support, and fulfill the need to bring magic to these children and their families who are going through difficult circumstances make them pillars of our community and people that can always be relied upon in challenging (and good) times. Thank you to Tony, Ryan, Cory, and the outstanding team at Lithia Subaru of Oregon City for their support this holiday season!
---
Lithia Subaru of Oregon City Grants Wishes - Mallory T
Clementine is 6 years old, loves reading, dancing, pirates and princesses. She also experienced a very serious, life-threatening hemorrhage of blood vessels in her brain earlier this year. Thanks to a successful surgery, she is recovering and has regained mobility. Tony's team at Lithia Subaru joined efforts with Make-A-Wish Oregon to grant a very special wish for Clementine to go to Walt Disney World Resort to be a princess! This opportunity will allow her family to spend time together and heal. On June 21, Clementine was surprised as she walked through the doors at Lithia Subaru and was welcomed by a crowd of employees, friends and family members who shared that her one-true wish was becoming a reality. Huge thanks to our friends at Lithia Subaru for hosting a special princess-themed celebration in her honor complete with Miss Oregon and Miss Outstanding Teen Oregon. Make-A-Wish Oregon grants the wishes of children 2 1/2 - 18 years of age who are battling a critical illness. Wishes have proven physical and emotional benefits that can give a child a higher chance of survival. We are thankful for community partners like Lithia Subaru for making wishes come true for these very special children. Thank you!
---
Share the Love - Sarah Y
Lithia Subaru "shares the love" with Oregon Humane Society – donates more than $51,000 to help homeless pets. Oregon Humane Society received more than $51,000 from Lithia Subaru as part of the Share the Love event Lithia Subaru of Oregon City is "sharing the love" with the pets at the Oregon Humane Society with a $51,080 donation. The gift marks the largest donation from Subaru's Share the Love event in the five years since OHS was first selected as one of the local participating charities. During the Share the Love event, which ran Nov. 15, 2018, to Jan. 2, 2019, $250 was donated for every new Subaru vehicle purchased or leased. This was the 11th year for the campaign which is expected to bring $140 million to local and national charities. Since 2013, Lithia Subaru of Oregon City has selected the Oregon Humane Society as the local beneficiary of the Share the Love event. "This year's total was an absolute record - a testament to our staff and customer commitment to OHS," says Ryan Vaughan, General Sales Manager, Lithia Subaru of Oregon City. "We are so grateful to Lithia Subaru of Oregon City for this generous donation," says Sharon Harmon, OHS president, and CEO. "These funds will provide medical care, behavior support, and other services to pets in need. "Pictured left to right: Jason Hirata, District Sales Manager - Subaru of America; Ryan Vaughan, General Sales Manager - Lithia Subaru of Oregon City; Sharon Harmon, OHS President and CEO; Sarah Yusavitz, OHS Corporate Relations Officer; Diego Montoya, Zone Retailer Development Manager - Subaru of America; Peter Holt, District Parts and Service Manager - Subaru of America. ##The Oregon Humane Society is the Northwest's oldest and largest humane society, with one of the highest adoption rates in the nation. OHS receives no government funds for its adoption, education, medical and behavior programs. Visit oregonhumane.org for more information.
---
Lithia Oregon City Subaru Loves Pets!!! - Jane M
All of us at the Oregon Humane Society would like to thank all the Portland Subaru retailers for raising and donating $56,900 to us during the Subaru Loves Pets Event! This tremendous donation will help hundreds of pets and families right here in Oregon! The Oregon Humane Society celebrated its 150 year anniversary this year and we could not do it without the strong support of Subaru and the local Subaru retailers. We would especially like to thank our long time supporter and partner, Lithia Oregon City Subaru! The team at Lithia Oregon City Subaru has been a generous donor to the Oregon Humane Society sponsoring our Annual Telethon, The Snuggle Express and several other of our key events year after year.Thank you very much to Lithia Oregon City Subaru for their generous donation of $7,375. Thank you from all the Pets!!!
---
Clackamas County Foster Parent Appreciation Dinner - Brianna W
May is National Foster Parent Appreciation Month and on May 1, Clackamas County DHS organized an appreciation dinner to honor foster parents from Clackamas County. Our goal was to send each family home with a gift or two from a local business to increase their feeling of community support. We were able to accomplish our goal, due in large part to Subaru's generous donation of restaurant gift cards and movie tickets. General Manager, Tony Jimenez, was eager to contribute to our cause and was instrumental in helping us give back to our foster parents. Thank you Tony and Oregon City Subaru, for partnering with us to serve our community this year! And thank you to our foster parents! Every child deserves to be safe and in a caring and loving home. Learn how you can help: helpafosterchild.oregon.gov.
---
Subaru and NWF Love the Earth! - Lisa N
Our habitat project involved over 25 students weeding, planting and cleaning up the space. It is now a beautiful space with plants, flowers, a bird bath, a little path and is a wonderful space outside our building. This project has inspired others to create a raised bed project. So we also have added six raised beds to our ongoing efforts! We are very excited about our habitat and garden spaces.
---
Lithia Animal Lovers Power OHS Snuggle Express - Jane M
Oregon Humane Society (OHS) just finished its 4th year of Snuggle Express, a program where OHS brings kittens and puppies to local businesses to bring joy to all and reduce stress for employees during the holiday season. Some businesses choose to donate so that the Snuggle Express can go to local schools. We are able to raise money for a great cause and provide awareness for animal adoptions and all of the things we at OHS do. Lithia Subaru was instrumental by providing a fleet of Subarus to transport these furry little buddies to local businesses. Oregon City Subaru has been our partner in this endeavor since the inception. This year Mother Nature made Snuggle Express much more challenging. If had just been the storms alone, our friends at Lithia Subaru and their intrepid Outbacks and Foresters would not have let a little thing like snow get in the way of OHS transporting puppies and kitties. But the weather in Portland was so severe all schools and businesses were closed; roads were impassable. In the following weeks, storms caused us to reschedule the Snuggle Express Days over and over, til we could visit all of the companies and schools who were signed up for the Snuggle Express. In their generous spirit, our friends at Lithia Subaru, allowed us to continue to borrow their vehicles for the Snuggle Express. If it were not for the compassionate animal-lovers at Lithia, Snuggle Express would not have become a reality.
---