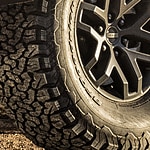 Someone starting out in the off-roading hobby will be happy to hear that they can start to learn more about the hobby from those already involved in it. They can join an off-roading club in their local community, or they can go onto some of the forums available online on the topic. Those who have been doing this hobby for a while will be sure to share the skills that they have with those who are just starting out.
While listening to what others have to say, don't forget to look at some of the national parks and other locations that may be available for you to enjoy taking your vehicle off-road to explore.
It is clearly so important to look at how you want to do something like this when you are in a situation like the one that we find ourselves in today. Take your time to find the right way to get involved.